Kratom

Addiction Treatment & Detox in Georgia
Treatment for kratom addiction usually involves a combination of detoxification, medication-assisted treatment, inpatient rehabilitation, and therapy that can adapt to emerging insights on the herbal substance.
Southeast Detox has a network of kratom addiction treatment centers in Georgia dedicated to staying on top of the latest findings for this complex and controversial herbal drug. Our multifaceted approach allows us to adapt at all levels of our care to best suit the needs of our client's treatment plans.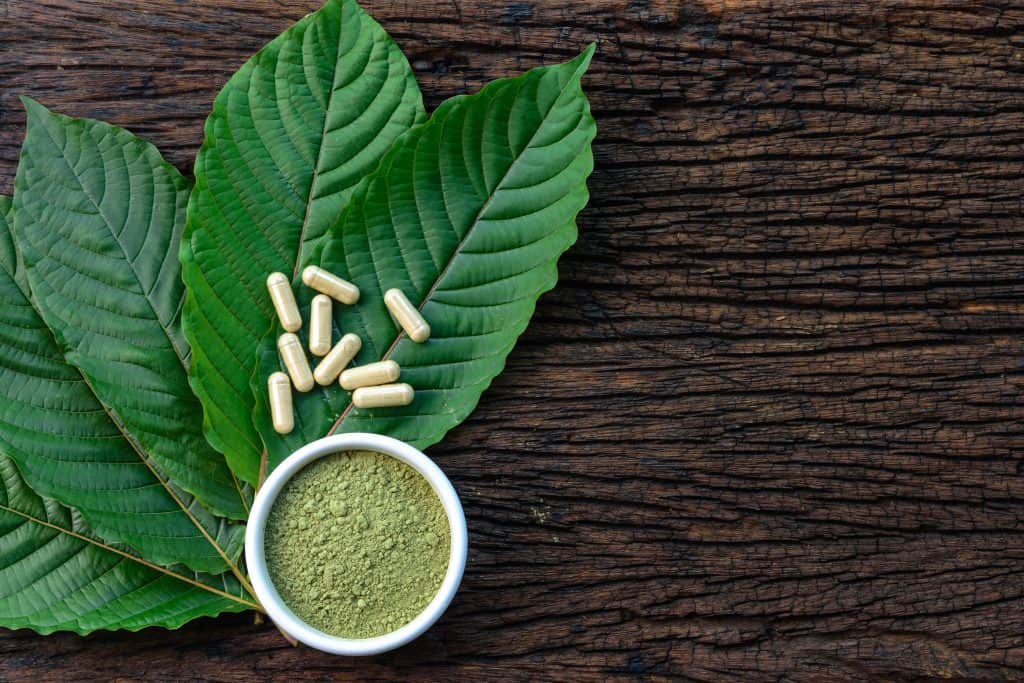 Mitragyna speciosa, commonly known as kratom, is an unregulated herbal supplement native to Southeast Asia. The herbal extract is used by some individuals as a natural alternative for treating various conditions such as chronic pain, anxiety, depression, and opioid addiction withdrawal symptoms. Additionally, kratom has been indicated to have both narcotic, opioid-like effects and stimulant effects.
As more evidence of negative effects is presented, concerns about the support for kratom are increasing. Despite its natural origins, the drug is a topic of controversy due to its limited research, the potential for abuse, and dependence when taken in high dosages.
The FDA (Food and Drug Administration) has warned against the use of kratom, citing potential health risks, including addiction, overdose, and death. However, limited research on kratom abuse and its prevalence in Georgia is available.
The Georgia Poison Center reported 41 cases of kratom exposure in 2020, which was a slight decrease from the previous year. It is important to note that not all reported cases of kratom exposure result in addiction.
As of March 2023, under current Georgia law, kratom is legal but not regulated, as it is not controlled under the U.S. Controlled Substances Act. Georgia legislature, under House Bill 181, seeks to ban sales and classify kratom as a Schedule 1 drug. Schedule 1 is defined as having no currently accepted medical use and a high potential for abuse.
The Georgia Department of Public Health does not currently track kratom abuse or overdose statistics in the state. However, given the increasing popularity of kratom use in recent years, it's essential for individuals who use kratom to be aware of the potential risks.
As the law currently stands, you can buy kratom legally in Georgia, including at gas stations and convenience stores. This is subject to change as awareness spreads of the risks. The legal status is up for vote with the 2023 legislature and increased attention on the risks of kratom use.
Our medical detox can help reduce withdrawal symptoms associated with kratom dependence by providing a safe and supportive environment to undergo withdrawal. This is especially important for individuals with other, unrelated medical conditions and/or substance use disorders. Under the care of our skilled clinicians, our clients can receive medications and other treatments to alleviate side effects and ensure their safety during the kratom withdrawal process.
It is important to note that medical detox is just one part of a comprehensive treatment plan for kratom rehab and should be followed by ongoing therapy and support to prevent relapse and promote long-term recovery.
Withdrawal symptoms associated with the side effects of kratom dependence can include:
Muscular Aches and Pains
Insomnia
Irritability
Hostility or Aggression
Emotional Changes
Runny Nose
Jerky Movements
Diarrhea
Weight Loss
Dilated Pupils
Sweating
Withdrawal symptoms may begin within 12 to 24 hours after the last dose and can last for several days or up to two weeks. The severity and duration of withdrawal can vary depending on the amount and duration of use, as well as individual factors.
In some cases, medications such as buprenorphine or methadone may be used at Southeast Detox to ease kratom withdrawal symptoms and cravings during detox.
These medications are opioid agonists that work by activating the same receptors in the brain as kratom but in a safer and more controlled manner. These meds help clients taper off kratom more gradually and reduce the severity of uncomfortable withdrawal symptoms.
Residential Treatment For Kratom Addiction
While professional detox is the first and foremost component of sustainable recovery from kratom, it is only the initial step. Our residential treatment program for kratom addiction offers a supportive and structured environment to help individuals achieve lasting recovery.
In our residential (inpatient) program, our clients usually stay 30 to 90 days and receive intensive individual and group therapy to address the underlying issues that contribute to their kratom usage. Our evidence-based treatment options, including behavioral therapy, medication-assisted treatment (MAT), and holistic therapies, have been shown to be effective in treating kratom addiction. Our comprehensive addiction treatment program is designed to help clients stay focused on their goals and avoid triggers that may lead to relapse.
At Southeast Detox, our clients have access to a supportive community of others in recovery from substance abuse. With the proper care and support, it's possible to achieve long-term results and regain control.
Kratom Addiction Treatment Services
Southeast Detox acknowledges the complexity of treating a newly emerging drug like kratom as ongoing research continues to provide valuable insights. We use a range of personalized approaches to support recovery at our drug rehab in Georgia, adapting our methods as more data and analysis become available.
Cognitive Behavioral Therapy
Cognitive-Behavioral Therapy (CBT) is an evidence-based treatment approach that can be highly beneficial for individuals seeking treatment for kratom addiction. At Southeast Detox, our CBT program is specifically designed to help individuals identify and change negative thought patterns and behaviors that contribute to using kratom.
One of the primary benefits of CBT for kratom addiction treatment is that it can help individuals develop coping skills to manage triggers and cravings.
At Southeast Detox, we offer yoga as a holistic therapy option for individuals seeking kratom addiction treatment. Our yoga program is led by experienced instructors who work closely with each individual to provide personalized support and guidance.
One of the primary benefits of yoga is its ability to reduce stress and promote relaxation. Kratom addiction can often be associated with underlying anxiety or stress, and yoga can provide individuals with a healthy outlet to manage these emotions.
Additionally, yoga's physical movements and deep breathing can help clients connect their minds and body, allowing them to recognize physical sensations and emotions better.
While kratom relapse prevention strategies may vary depending on the individual and their specific needs, some potential benefits may include:
Reducing the risk of overdose: Kratom relapse prevention can help individuals avoid potentially dangerous situations that may increase the risk of overdose.
Promoting long-term recovery: Relapse prevention strategies can help individuals develop healthy coping skills and behaviors that can support long-term recovery from kratom.
Improving overall well-being: Kratom relapse prevention can involve a range of holistic therapies and lifestyle changes that can improve overall physical and mental health.
Reducing the financial and social costs of addiction: Relapse prevention can help individuals avoid the economic and social costs associated with kratom addiction, such as legal issues, job loss, and strained relationships.
Focusing on relapse prevention can help individuals reduce their risk of relapse and achieve lasting recovery from kratom addiction.
Kratom Addiction Support in Georgia
Here are some resources for those seeking help for kratom addiction in Georgia:
Southeast Detox is a premier drug and alcohol addiction treatment center that offers an upscale inpatient drug rehab, outpatient treatment, and more. Southeast Detox emphasizes personalized one-on-one treatment plans that cater to the individual's needs under the guidance of skilled and compassionate clinicians.
The Georgia Council on Substance Abuse: This nonprofit organization provides education, advocacy, and resources for individuals and families affected by substance abuse in Georgia. They offer a directory of treatment centers and support groups for addiction, including kratom addiction.
The Georgia Crisis and Access Line: This 24/7 hotline provides crisis intervention and referral services for individuals seeking mental health and addiction treatment in Georgia. They can provide information and resources for kratom addiction treatment options.
Narcotics Anonymous: This worldwide organization provides support and resources for individuals recovering from addiction to kratom and other herbal substances. They offer meetings throughout Georgia, including virtual options.
If you or a family member is struggling with kratom addiction or is abusing other forms of unregulated herbal substances, take action today. Give us a call. Our team is here for you around the clock, ready to assist in any way possible. Our premier treatment center can help you or your loved one overcome kratom addiction to start the process of recovery.
Your Recovery Starts Here
Our admissions team is ready 24/7 to guide you through the process, from admission to coordinating travel, treatment programs, and more.