Heroin

Addiction Treatment in Georgia
Heroin abuse has created a staggering crisis in Georgia, leaving a trail of devastating aftermath in communities. To combat this, a comprehensive treatment approach is necessary, including detoxification, medication-assisted treatment, inpatient and outpatient rehabilitation, aftercare, and support groups.
Southeast Detox operates a network of heroin addiction treatment centers in Georgia that collectively offer treatment at all these care levels. This enables us to personalize our programs to cater to each client's specific needs.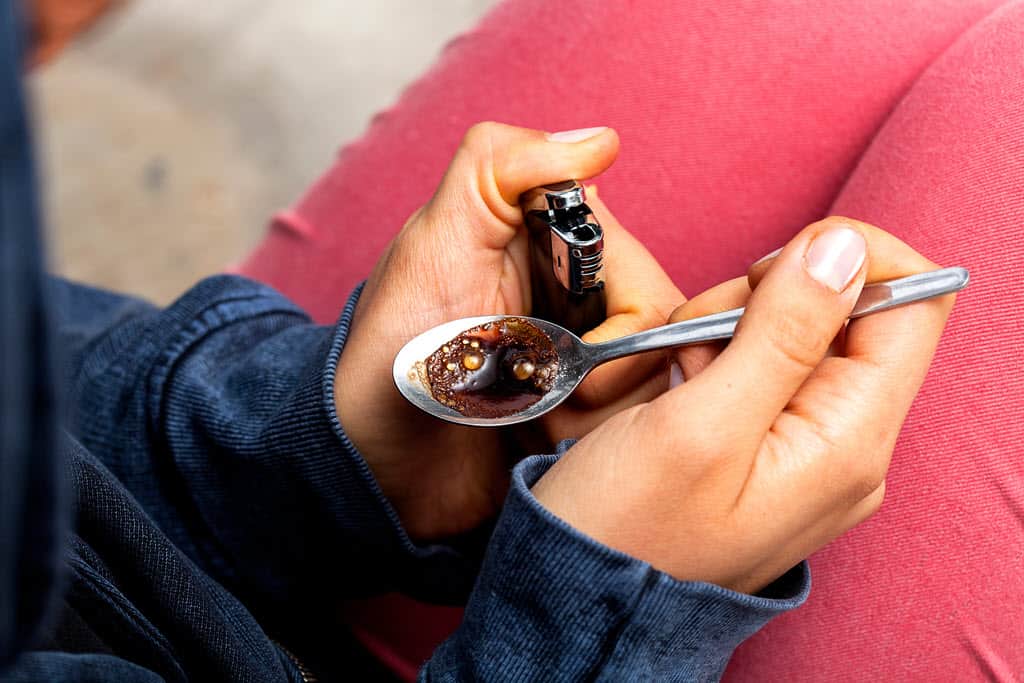 Heroin addiction can affect almost anyone, and overdose deaths are too common.
Over the past few years, the number of people seeking help for their opioid addiction has surged. In 2018, Georgia witnessed 591 deaths caused by opioid-related overdoses that involved heroin. The number increased in 2019, with 613 deaths from overdoses involving heroin, as per the National Institute on Drug Abuse (NIDA) and GDPH.
According to the Georgia Department of Health (GDPH), in 2019, there were 8,298 hospitalizations in Georgia related to opioid overdoses, which include heroin.
SAMHSA reported that over 8,000 individuals (8,380) were admitted to publicly-funded addiction treatment recovery centers for heroin abuse in Georgia in 2020. This represents a sharp increase from the 7,574 heroin-related admissions in 2019.
These statistics highlight the severe issue of heroin abuse in Georgia and the pressing need for impactful prevention and treatment resources to tackle this growing crisis.
Signs and Symptoms of Heroin Abuse
The danger of heroin is present regardless of the duration of its use. Nonetheless, the symptoms and harm caused by heroin addiction may vary depending on the length of time an individual has been using the drug.
Short-term risks include:
Blacking out or going in and out of consciousness
Slowed respiratory function
Low blood pressure
Mental illnesses such as anxiety and depression
Arrhythmia of the heart and palpitations
Inability to focus
Longer-term use sees even more severe consequences to the health of the user, such as:
Lung issues and increased vulnerability to illnesses such as pneumonia
Cognitive impairment/damage
Further deepening of depression/anxiety
Liver and/or kidney damage due to the strain of processing toxic compounds
Heart disease/damage
Circulatory system problems
It is essential for those suffering from heroin addiction to seek professional help from a comprehensive addiction treatment center like Southeast Detox.
Our Heroin Addiction Treatment Program in Georgia
Southeast Detox offers a safe, stable, and compassionate atmosphere to those battling heroin addiction. Our highly skilled clinicians work with each client to develop an individualized treatment plan.
Our heroin treatment programs can include the following:
Medication-Assisted Treatment
Inpatient and Outpatient Rehabilitation
Aftercare
Support Groups
Heroin detox will occur shortly after stopping heroin and can cause severe withdrawal symptoms after prolonged misuse. Enrolling in a reputable detox program is the best way to stay safe during a heroin withdrawal.
Anyone abusing heroin and suddenly stopping the drug will experience uncomfortable withdrawal symptoms.
These effects of stopping heroin may include:
Restlessness
Muscle and Bone Pain
Trouble Sleeping
Diarrhea and Vomiting
Cold Flashes and Goosebumps
Leg Tremors
Heroin Cravings
Once someone has experienced the acute heroin withdrawal symptoms, they may begin to feel post-acute withdrawal (PAWS).
These symptoms can include:
Heroin Urges and Cravings
Anxiety or Panic
Depression
Sensitivity to Stress
Mood Swings
Inability to Focus
Fatigue
Trouble Remembering
Insomnia
The best way to avoid PAWS is to effectively manage your symptoms with continued addiction treatment programs following a detox treatment.
Our detox services and professional drug rehab center help our clients safely navigate the withdrawal process while ensuring comfort and stability – thus significantly improving the chances of maintaining sobriety.
Southeast Detox understands the importance of managing medications safely during detox and recovery.
Here are some of the medications we utilize:
Suboxone contains a combination of buprenorphine and naloxone. Buprenorphine is an opioid medication, sometimes called a narcotic. Naloxone blocks the effects of opioid medication, including pain relief or feelings of well-being that can lead to opioid abuse.
Vivitrol contains the active ingredient naltrexone and is administered as an injection once a month. The medication works by blocking the effects of opioids, such as heroin, on the brain. This reduces the craving for opioids and can prevent relapse.
Naltrexone is an opioid antagonist, meaning it blocks the effects of opioids and can help reduce cravings. It can also be used to reverse the effects of an opioid overdose and is available as an injection or nasal spray.
Our Heroin Rehab Programs
At Southeast Detox, we understand the turmoil associated with heroin addiction, and we want to help. We offer a fully renovated rehabilitation center in Georgia that provides an intimate setting for individuals seeking recovery.
Our Inpatient Treatment Program
Our luxury residential treatment program (also known as inpatient) provides a dynamic, evidence-based approach to heroin recovery. We guide our clients to learn how to manage heroin withdrawal symptoms, combat cravings, and foster a healthier lifestyle.
Our treatment philosophy is centered on creating an inclusive atmosphere that prioritizes the needs of our patients through individualized programs.
Our state-of-the-art facility is designed to promote healing and relaxation, offering a comfortable space for individuals to begin their journey toward sobriety.
We also offer an array of upscale amenities for your stay, including:
Each Room Features Flat-Screen TVs with Wi-Fi and Multiple Streaming Services
Tempurpedic Mattresses with Down Comforters
Luxury Vinyl Plank Flooring
Catered Meals
On-Site Drinks and Snacks
Bring Your Favorite Snacks and Drinks
Our team of compassionate and experienced clinicians will develop personalized aftercare plans, relapse prevention strategies,  and resources to guide your recovery path, andto maintain long-term sobriety to live life to the fullest.
Our Outpatient Treatment Program
Southeast Detox offers a flexible schedule for individuals in heroin recovery ready to transition to greater freedom while maintaining the skills learned in our inpatient program. We combine individual and group therapy with weekly evening sessions to suit our client's lifestyles.
Our outpatient program gives structure to those with foundational skills and habits. We aim to stay connected with our clients, and an outpatient program is an excellent option for those to continue their progress.
Heroin Recovery Therapy Options
When fighting heroin addiction, we use multiple proven talk therapies as part of a comprehensive treatment plan with other supportive services.
Two common types of talk therapy we use in treating heroin addiction at Southeast Detox are cognitive-behavioral therapy (CBT) and dialectical behavior therapy (DBT).
Here's how both are used for heroin recovery:
CBT focuses on identifying and changing negative thought patterns and behaviors that contribute to heroin abuse. In CBT, the therapist and individual work together to identify dark thinking patterns and beliefs that contribute to drug abuse. The individual learns new, positive ways to cope with triggers and stressors and gains skills to manage cravings and other uncomfortable emotions.
DBT is a cognitive-behavioral therapy that combines CBT techniques with mindfulness practices. DBT is particularly effective for individuals struggling with heroin addiction and co-occurring mental health disorders such as depression, anxiety, and personality disorders. In DBT, individuals learn skills to manage emotions and improve interpersonal relationships. The focus is on balancing acceptance and change, and mindfulness is a central therapy component.
Other forms of talk therapy we utilize include:
Motivational Interviewing (MI) can help individuals explore and resolve any uncertainties or mixed feelings about sobriety, empowering them to take the necessary steps toward recovery from heroin addiction.
Contingency Management (CM) focuses on rewarding drug-free behaviors, such as staying clean from heroin for a certain amount of time, with incentives like vouchers or prizes.
Family Therapy (FT) involves working with you and other family members to address negative family dynamics, improve communication, and provide a supportive,  stable environment for your loved one's recovery.
Effective therapy can aid individuals in defeating their addiction, enhancing their lifestyle, and decreasing the chances of relapse.
Heroin Addiction Support in Georgia
The statistics are heartbreaking and heavy. Find strength and support from various resources available in Georgia. Support groups are available in both in-person and online gatherings, providing individuals the flexibility to choose the option that best fits their lifestyle.
Impacted by heroin? Here are some helpful resources in Georgia:
Get Help for Heroin Today
Southeast Detox offers exceptional treatment options that empower individuals to conquer their heroin addiction with confidence.
Heroin addiction not only causes a tremendous burden on the healthcare system and the economy, but it also devastates the community, the individual, and their loved ones. We urge you to take action now before it's too late. Heroin overdoses are frequent and can be fatal. Contact us today. Our admission team is ready 24/7 to guide you through the process.
Your Recovery Starts Here
Our admissions team is ready 24/7 to guide you through the process, from admission to coordinating travel, treatment programs, and more.