Cocaine

Addiction Treatment in Program In Georgia
Southeast Detox is one of Georgia's premier cocaine addiction treatment centers. We offer every level of care available to those suffering from cocaine dependency, from medical detox to outpatient treatment.
Each client who admits to any of our cocaine rehab programs receives a comprehensive treatment plan designed specifically to meet their unique needs.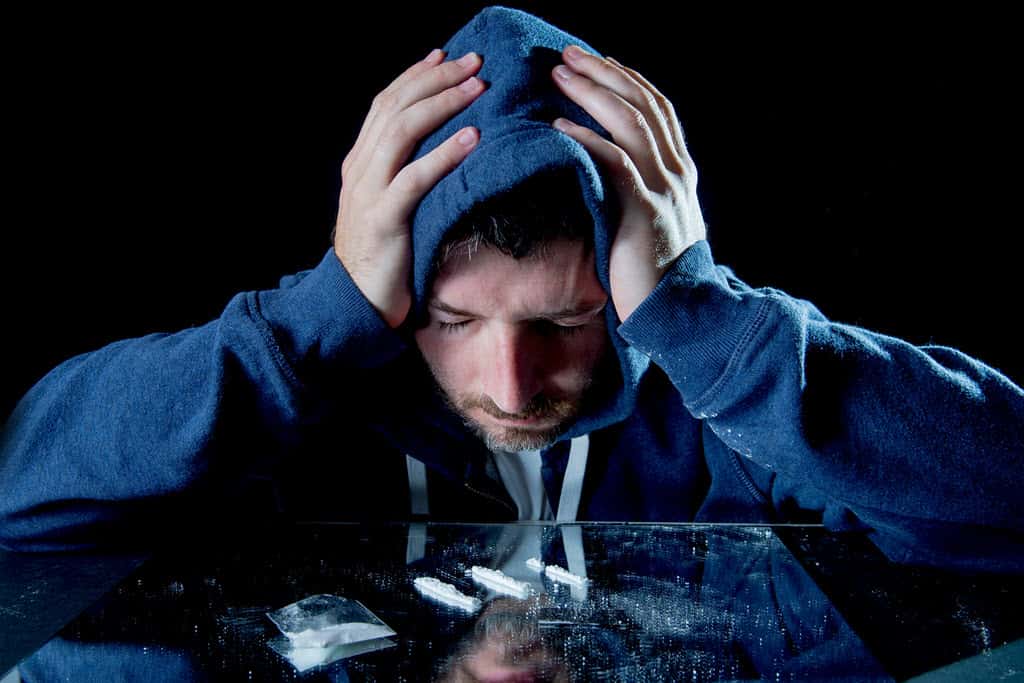 Cocaine Addiction in Georgia
According to the Georgia Department of Public Health, in 2019, cocaine was the second most commonly citedprimary drug among those admitted to substance abuse treatment programs in Georgia, accounting for 22% of all admissions.
Additionally, the Georgia Bureau of Investigation reported that in 2020, cocaine was the second most commonly seized drug by law enforcement agencies in the state, accounting for over 12% of all drug seizures.
It's worth noting that these statistics only reflect reported cases of cocaine abuse and may not capture the full extent of cocaine use and abuse in Georgia. Additionally, cocaine use is illegal in all forms in Georgia.
Signs of Cocaine Addiction
The symptoms of cocaine abuse and addiction will vary from one individual to the next depending upon the length of addiction, frequency of use, and level of physical dependency.
Apart from the general mental and bodily harm that comes from chronic and sustained cocaine use, we can break down the symptoms of addiction in the form of:
Behavioral symptoms:
Lying about whereabouts, associates, and activities
Trying but failing to curtail one's cocaine usage
Acting with increased energy
Reckless and risky behaviors
Borrowing or stealing money
Physical symptoms:
Rapid heart rate and high blood pressure
Lack of need for sleep
Dilated pupils
Persistent nosebleeds
Elevated body temperature and perspiration
Loss of appetite
Cognitive symptoms:
Poor decision-making capabilities
Euphoria
Restlessness
Irritability
Psychosis
Overabundance of confidence 
Psychosocial symptoms:
Agitation
Depression
Anhedonia
Mood swings
Withdrawal
These multi-faceted symptoms can be challenging to cope with. It is essential for those suffering from addiction to seek professional help from a qualified detox center like Southeast Detox.
Our Cocaine Detox Center in Georgia
Here at Southeast Detox, we know firsthand how challenging it can be to navigate the detox and treatment process for cocaine addiction. The all-consuming nature of cocaine addiction makes it feel like there's no way out, but hope exists.
The first step on the road to recovery at Southeast Detox is medical detoxification. This initial substance abuse treatment can be uncomfortable and cause physical and mental side effects.
Monitoring and support during detox are vital to ensure the best possible outcome.
Withdrawal symptoms from cocaine can vary in severity and duration, depending on factors such as frequency and amount of use and individual health status.
Some common symptoms of cocaine withdrawal include:
Other physical symptoms, such as tremors, sweating, chills, nausea, and vomiting, may also be present. Individuals may sometimes experience more severe symptoms, such as seizures or hallucinations. Fortunately, these symptoms can be managed and minimized with proper care and support.
Our highly skilled and compassionate staff has helped countless individuals from all walks of life and at all levels of addiction find their path to recovery. We are committed to providing the support and resources needed to help individuals overcome addiction and achieve lasting recovery.
Our Cocaine Addiction Treatment Program in Georgia
Addiction is a disease that can impact anyone, regardless of their background or circumstances. At Southeast Detox, you can trust that our expert team understands this. Our treatment center strives to create an inclusive and welcoming environment that helps our patients feel at ease and allows them to focus on what matters – their journey toward lasting change.
We combine evidence-based practices with holistic therapies to create an individualized treatment plan for each patient. You will work with your specific treatment team to develop a customized plan that considers your unique needs, preferences, and goals.
You will play a role in determining which services you will use to treat cocaine abuse along with any other co-occurring disorders such as anxiety, depression, and bipolar disorder.
The range of programs includes:
Detoxification
Inpatient
Intensive Outpatient Program (IOP)
Outpatient Treatment
Partial Hospitalization Programs (PHP)
Sober Living
Our Inpatient Treatment Program
We aim to establish the highest level of excellence in our addiction treatment residential program at Southeast Detox. We offer inpatient treatment (also known as residential treatment) that provides 24/7 care to safely support individuals at the beginning of their journey toward recovery from cocaine abuse. We designed our inpatient treatment program for those requiring more care or supervision than our outpatient services.
We recommend our residential treatment program for any individual who:
Is battling a severe addiction
Has repeatedly relapsed in the past
Does not have a supportive sober environment to live in
Has co-occurring mental health conditions
Has a history of medical problems
Lives in or around places that trigger relapses
Has unsuccessfully tried other forms of addiction treatment
Our experienced clinicians combine several different evidence-based approaches with holistic therapies to address cocaine abuse and other co-occurring mental health challenges to treat the whole individual. We offer various treatments such as individual therapy, cognitive-behavioral therapy, motivational interviewing, contingency management, family therapy, yoga, EMDR therapy, and group therapy.
Our state-of-the-art treatment facility provides a small, intimate setting that promotes effective healing and fosters a sense of community. The length of stay depends on personal factors, including the history of addiction, mental health status, and support outside rehab. If this resonates with you, our inpatient rehab may be the ideal fit to take the monumental step for healing with round-the-clock addiction care for a successful outcome.
Our Intensive Outpatient Program
Our intensive outpatient program (IOP) bridges the gap between cocaine addiction treatment and the real world. We provide a range of options for our clients, such as employment, volunteering, and support groups, in a more relaxed setting while reinforcing the skills and tools learned in intensive, 24/7 residential treatment.
With weekly individual therapy sessions and the opportunity to attend meetings and seek employment, our IOP program sets the foundation for long-term recovery.
We also emphasize the importance of communication skills, socialization experiences, structure, and discipline to reinforce healthy interactions and establish a supportive therapeutic environment. Group members who are further in their recovery can serve as role models and guide others in the program, while group leaders can transmit new information and teach new skills.
We designed our outpatient treatment program (OP) with the most significant amount of freedom in mind. This program supports our clients' transition into greater freedom while maintaining the foundational skills learned in our intensive outpatient program. Our program blends individual and group therapy with flexible scheduling to ensure accessibility for our clients recovery from cocaine.
With an evening weekly outpatient schedule, you can maintain employment while progressing in the recovery journey. Our outpatient program provides the necessary residual structure for those who have learned the essential skills and habits. We prioritize staying connected with our clients, and outpatient care is an excellent way to continue that journey after completing the more intense program.
Our Partial Hospitalization Program
Southeast Detox offers a partial hospitalization program (PHP) to those seeking intensive outpatient treatment for cocaine addiction and other substances. PHPs can be an effective option for individuals who require more structure and support than standard outpatient treatment but do not need 24-hour supervision.
Our PHP is an outpatient level of care that meets from 9 am to 4 pm Monday through Friday, providing structure around the clock at a more affordable price. We strive to provide a treatment environment that mirrors the real world, so our clients can effectively reintegrate into society after recovery. As our patients come from diverse backgrounds, we take pride in tailoring individualized treatment plans to meet their specific needs and support long-term recovery.
Gender-specific groupings and daily intimate therapy sessions are available. Clients must have undergone medical detox to attend several hours of daily group therapy sessions in our intensive program.
Continuing Recovery Through Sober Living
Our treatment center provides supportive living through sober living homes, whether you're enrolled in our addiction treatment program or have completed it. Our sober living homes create a safe and inclusive environment free of drugs and alcohol for individuals in recovery.
We offer affordable, high-quality addiction recovery housing in our sober living homes for both men and women. Our homes provide 24-hour support, access to valuable resources, including job training and education, and a nurturing community of individuals who are also in recovery, offering companionship and encouragement.
We provide top-notch amenities and clean living spaces at all our drug rehabs. Comfortable living spaces are critical for the recovery process.
Living in a sober environment has various benefits, including:
Structured living with curfews
Rules that promote healthy habits and reduce relapse chances
Weekly community meetings
Daily 12-step meetings
Random UA and BA testing
Transportation to treatment and 12-step recovery meetings
We also offer recreational activities and volunteering opportunities to engage with the community and develop new hobbies.
Combining sober living with our PHP or intensive outpatient program (IOP) can build a strong foundation for long-term recovery while providing accountability in a secure and healthy environment.
Behavioral Therapies for Cocaine Use
Behavioral therapies are essential to cocaine addiction treatment and can help individuals develop the skills and strategies necessary for long-term recovery.
The benefits of behavioral therapies include:
Improved Coping Skills
Increased Self-Awareness
Reduced Cravings and Triggers
Better Overall Mental Health
We deliver these therapies in various settings, including individual, group, and family therapy.
Some types of behavioral therapies used at Southeast Detox include:
Cognitive-Behavioral Therapy (CBT) focuses on identifying and changing negative thought patterns and behaviors contributing to cocaine addiction.
Motivational Interviewing (MI) helps individuals explore and resolve their ambivalence about seeking cocaine addiction treatment and changing their behavior.
Contingency Management (CM) involves providing positive reinforcement, such as vouchers or prizes, for drug-free behaviors.
Family Therapy focuses on working directly with the individual's family members to address family dynamics and promote healthy communication and support.
Georgia Cocaine Abuse Support
You are never alone when addressing addiction, whether for yourself or your loved ones. Support groups are available in both in-person and online formats, so you can choose the one that fits best with your lifestyle.
Here are some additional resources for cocaine addiction available in Georgia:
Georgia Cocaine Abuse Support
Southeast Detox is raising the care, compassion, and clinical standards in cocaine and other addiction treatments. We are proud to help individuals ready to begin their journey toward a healthy and sustainable recovery.
We make seeking help a simple process for cocaine rehab treatment in a luxurious, peaceful, and safe setting. Contact us today to see how we can assist you and your loved ones on the road to recovery. Call us now at (706) 873-9955.
Your Recovery Starts Here
Our admissions team is ready 24/7 to guide you through the process, from admission to coordinating travel, treatment programs, and more.