Inpatient

PTSD & Trauma Treatment Program in Georgia
Post-traumatic stress disorder (PTSD) is a mental illness health condition that individuals develop after experiencing or witnessing a traumatic event. Those events can range from military combat, sexual abuse or assault, and natural disasters, to accidents.
Individuals with PTSD may experience flashbacks, nightmares, changes in mood, and avoidance of certain social activities. At Southeast Detox, we understand how PTSD can interfere with daily life. Our PTSD and trauma treatment center in Georgia, near Atlanta, GA, provides treatment options to help our clients regain a better quality of living. Seeking help for PTSD is essential for long-term recovery from the disorder.
PTSD is a public health concern in Georgia, and the data surrounding it is critical to understanding the need for treatment for this disorder.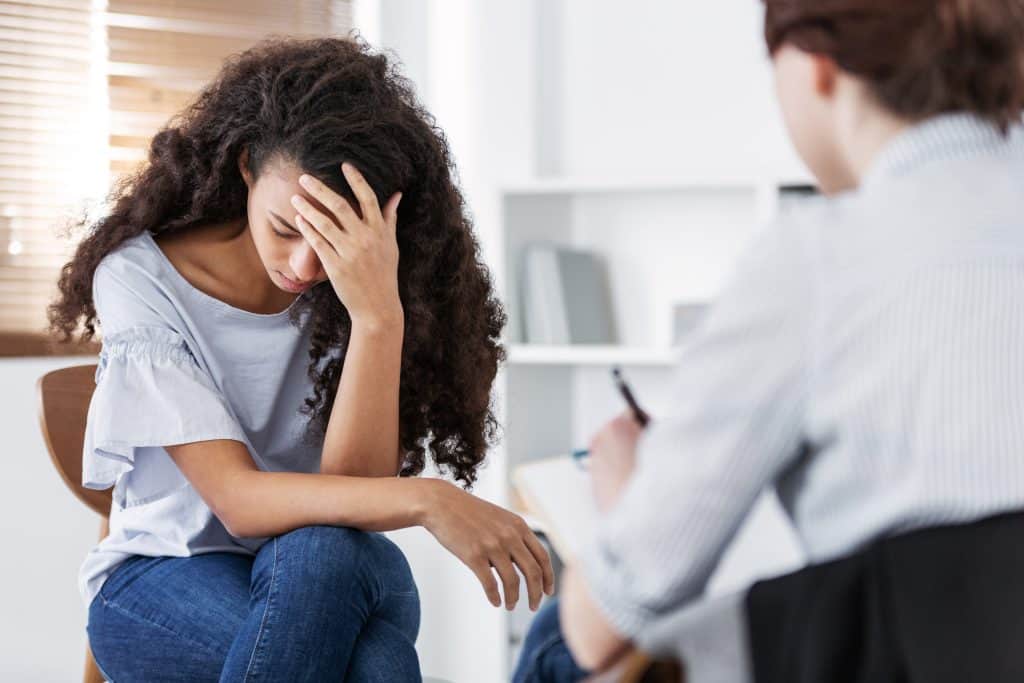 At Southeast Detox, we treat several different traumas, including those resulting from post-traumatic stress disorder: physical, sexual, and emotional abuse, neglect, natural disasters, accidents, and medical trauma, as well as complex trauma related to domestic violence, among others.
Post-traumatic stress disorder (PTSD) is a mental disorder in individuals who have experienced or witnessed a traumatic event such as war, natural disaster, accident, and physical or sexual assault.

Acute Trauma occurs due to a single event or a series of events that lead to acute emotional distress. Serious accidents, natural disasters, or violent crimes cause acute trauma. Individuals with acute trauma have constant flashbacks, anxiety, and depression and experience difficulty sleeping.

Chronic Trauma is a mental health issue that results from repeated and prolonged exposure to adverse events such as physical or emotional abuse, neglect, or dysfunction within the home. Chronic trauma impacts an individual's physical, emotional, and mental well-being.

Complex Trauma is long-term or repeated exposure to traumatic events. Individuals with complex trauma have a negative sense of self and safety and experience trouble holding lasting personal relationships. This type of drama is typically the result of physical or sexual abuse or neglect by caregivers.
Our Trauma Treatment Programs
To meet our client's needs, we offer various customized treatment services. Because our programs are flexible and individualized, we can reach all who need support in a way that benefits them and their obligations.
Partial hospitalization program (PHP): The highest level of care we offer is PHP. This program requires that our clients spend at least 30 hours a week in our PTSD treatment program and return home afterward.

Intensive outpatient program (IOP): Allows clients to continue carrying out their obligations while receiving several hours of care each week in our facilities.

Outpatient treatment: With this level of care, our clients receive effective treatment at a cadence that meets their needs. We do not recommend this as a first step to recovery, particularly for patients with co-occurring substance abuse disorders who need a dual diagnosis treatment.

Sober living: Our clients have access to sober living facilities, allowing them to live on-site with others experiencing the same journey as they are. They can bond with other clients experiencing PTSD and participate in group therapy to develop coping mechanisms.

Medical detox: We offer medically-assisted detoxification services to clients who require it as a first step in their treatment program. Our detox treatment aims to help clients overcome their dependence on substances and rid their bodies of drugs before entering an IOP or PHP program.

Integrated care: Our integrated care model involves all aspects of our client's care and is led by a team of healthcare professionals. We combine treatment and preventive health to form individualized plans for our clients.
Because Southeast Detox is near Atlanta and independently owned and operated, this gives us complete control over our operations, services, and facilities. In turn, we can be more receptive to our client's needs and build lasting relationships and client loyalty.
Symptoms of Trauma That We Treat
Trauma symptoms are usually grouped into four types: intrusive memories, avoidance, negative changes in thinking and mood, and changes in physical and emotional reactions.
At Southeast Detox, we understand that no two people are the same, and symptoms can vary over time and from person to person.
Typically, symptoms include:
Intrusive memories
Recurrent, unwanted distressing memories related to the traumatic event
Reliving the trauma through flashbacks
Upsetting dreams or nightmares
Severe emotional distress or physical reactions to reminders of the traumatic event
Avoidance
Trying to avoid thinking or talking about the traumatic event
Avoiding places, activities, or people that bring up memories of the traumatic event
Adverse changes in thinking and mood
Negative thoughts about yourself, other people, or the world
Hopelessness about the future
Memory problems, including those related to the traumatic event
Mood
Difficulty maintaining personal relationships
Feeling detached from family and friends
Lack of interest in once pleasurable activities
Difficulty experiencing positive emotions resulting in feelings of numbness
Physical and emotional reactions
Easily startled or frightened
On guard for danger
Self-destructive behavior
Trouble sleeping
Trouble concentrating
Irritability, angry outbursts, or aggressive behavior
Overwhelming guilt or shame
Our Approach to Trauma Treatment
To meet our client's needs, we offer various treatment services customized to each client's specific needs. Because our programs are flexible and individualized, we can reach all who need support, regardless of their home or work situation. The primary goal of our PTSD & trauma treatment center in Georgia is to get individuals the proper care they need.
We offer several therapies and coping strategies to treat the mental health disorders of our clients who need PTSD trauma therapy. Because PTSD symptoms can be varied and complex for each individual, we provide a continuum of care that leads to effective treatment for each client.
Psychiatric Medications
Psychiatric medications can help treat PTSD. These medications included antidepressants, anti-anxiety agents, and mood stabilizers, which all help to reduce the symptoms of anxiety, depression, and aggression. Selective serotonin inhibitors are also commonly used to treat PTSD and are often combined with other treatments such as therapy and lifestyle changes.
Individual Therapy
Our clients work with a therapist one-on-one to address their mental health disorders during individual therapy. These private and confidential sessions allow our clients to openly explore their feelings, behaviors, and past experiences that caused the trauma.
Cognitive Behavioral Therapy
Cognitive behavioral therapy (CBT) is a form of psychological treatment effective for various problems, including depression, anxiety disorders, alcohol and drug use issues, marital problems, eating disorders, and severe mental illness. Our evidence-based research suggests it significantly improves functioning and quality of life. For some clients, CBT is more effective than other therapy or medications.
CBT is an effective treatment for individuals with PTSD because it focuses on problem-solving and changing negative thought patterns. In addition, it is a goal-oriented approach, which sets our clients up for success because they work with their therapist to set realistic benchmarks for recovery.
Dialectical Behavior Therapy (DBT)
Dialectical behavior therapy (DBT) is a cognitive behavioral treatment and standard psychological service used to treat PTSD. DBT effectively treats many other disorders, such as substance dependence, depression, anxiety, and eating disorders.
DBT helps clients who struggle with managing their emotions and relationships and those considering self-harm. This treatment service is ideal for individuals with emotion regulation, impulse control, and social difficulties that PTSD brings.
Holistic Therapy
Yoga is a therapeutic practice that alleviates the symptoms of PTSD because of its positive impact on mental health. We combine physical postures, breathing exercises, and meditation, customized to each client's needs, to encourage our clients to be in the present moment. Our guided meditation facilitates peaceful visualizations and leads to a state of reduced stress and peace.
Why Choose Southeast Detox?
Once you arrive at Southeast Detox, you will find a welcoming environment that promotes healing and long-term recovery. Our treatment team comprises nurses, therapists, group facilitators, and other licensed clinicians who are mental health and drug addiction experts.
Our backgrounds and passion are our keys to success and the drug rehab treatments our clients need. Our team guides our clients through sharing their thoughts and feelings, aligning treatment plans that promote mental wellness, and learning how to manage emotions.
Southeast Detox is fully licensed and JCAHO accredited. We are also Joint Commission-accredited, which means we go above and beyond to raise the standard of safety and quality of care for our clients.
Insurance and Payment Options
Paying for PTSD treatment should not come as a burden, and we want all those experiencing this disorder to receive the treatment they need.
Southeast Detox accepts several insurance companies as out-of-network providers. We accept the following major insurance plans and offer payment options for those paying out of pocket.
Tricare

Anthem BCBS

Alliant Health Plans

Friday Health Plans

Optum VA

We accept most other private insurance policies as well.
We can establish payment options if you don't have insurance coverage. Our options include paying for your treatment over time, financing through a third party, or paying the whole amount up front.
Learn More About Our Customized Treatment Plans
Our team is here to help you with the admissions process at every stage. We'll start by having a confidential and complimentary phone call to discuss pre-admission questions to help us understand your situation and develop an individualized mental health treatment plan. We'll also help you confirm your insurance and the logistics of receiving treatment.
If you're ready to take steps to cope with and treat PTSD and any associated substance use disorders, call us. Our team understands each person has a unique set of needs, and we have a team equipped to handle each. We encourage you to visit us at 4300 Martha Berry Hwy., Rome, GA 30165, by phone at (706) 873-9955, or by email at info@southeastdetoxga.com.
Your Recovery Starts Here
Our admissions team is ready 24/7 to guide you through the process, from admission to coordinating travel, treatment programs, and more.