Top-Rated

Anxiety Treatment Center in Georgia
While experiencing anxiety based on circumstances is normal, people with generalized anxiety disorders experience acerbated symptoms. They tend to worry and fear completing everyday tasks persistently. These individuals experience intense and persistent worry and fear that won't subside quickly.
Instead, individuals with an anxiety disorder have repeated episodes of sudden and intense terror that can peak and result in a panic attack. Our Anxiety Treatment Center in Georgia, located near Atlanta, at Southeast Detox, offers treatment plan options to help you overcome anxiety's hold over daily life. Our anxiety treatment center offers a comprehensive treatment plan for anxiety disorders which should be followed by aftercare therapy to reach long-term recovery.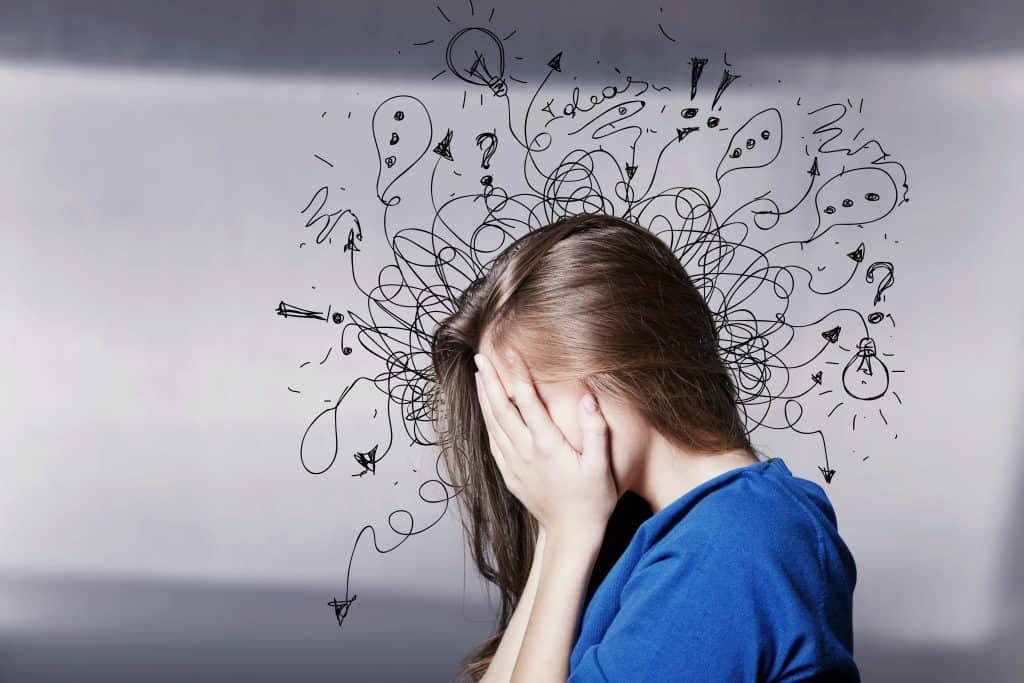 Anxiety and Substance Abuse in Georgia
Georgia has experienced an increase in anxiety and substance abuse. The COVID-19 pandemic has contributed to these problems, particularly among adolescents. Because of the elevated stress levels, individuals are coping with anxiety by combining it with drugs and alcohol.
To support those suffering from this lethal combination, the state offers resources for addiction treatment, including the Georgia Crisis and Access Line. This service provides immediate support for those suffering from anxiety and substance abuse.
The Georgia Crisis and Access Line's primary sources include the following:
Assessment and Recovery Planning, which identifies recovery plans.

Physician Services to assist with medication management.

Nursing Services where individuals have access to have their health issues monitored.
Community Support offers in-home support for building skills for recovery and provides local resources to individuals' communities.

Psychosocial Rehabilitation teaches daily living, money management, and resource attainment skills.
Understanding the rise of substance abuse in Georgia comes with first recognizing the stats associated with anxiety and mental health.
1 in 5 U. S. adults has a mental illness, which equates to 1.4 million adults suffering from the disorder.

29.4% of adults have not had access to counseling to learn coping strategies for mental illness.

Nearly 40% of adolescents did not have access to healthcare treatment to understand and deal with mental health disorders.

More than 40% of adults experience persistent anxiety-related symptoms.
Anxiety and substance use disorders can co-occur. Those disorders include depression and bipolar disorder, psychotic illness, borderline personality disorder, antisocial personality disorder, and attention-deficit hyperactivity disorder (ADHD). Certain preexisting anxiety disorders can lead to substance abuse.
They include the following:
Social Anxiety Disorder: Alcohol abuse is common for individuals with a social anxiety disorder. Survey results suggest they do so to lessen anxiety, but it worsens the condition.

Post-Traumatic Stress Disorder: When coping with past events plaguing some individuals, some abuse alcohol or drugs to numb the memories.

Panic Disorder: When individuals suffer from panic attacks, adding drugs or alcohol can increase the number of episodes and lead to the relapse of abusing substances.
Southeast Detox offers highly effective treatment programs to help our clients suffering from anxiety disorder and substance abuse overcome both with a behavioral health plan. We offer treatment through cognitive behavioral therapy (CBT), dialectical behavioral therapy (DBT), EMDR therapy, holistic therapies, relapse prevention, and 12-step programs.
Our Anxiety Treatment Center Programs
Through our treatment programs, individuals can take control of their substance use disorder from varying levels of care.
Detox: Through our medically assisted detoxification (detox) program, clients are medically monitored around the clock at our treatment facility as they withdraw.
Inpatient treatment: For this level of care, clients live at our facility 24/7 under the supervision of our treatment team while receiving residential treatment.
Partial hospitalization program (PHP): This treatment option is a day treatment where patients receive healthcare services during the day and return home to continue with their obligations. Clients spend up to 30 hours a week at our treatment center.
Intensive outpatient program (IOP): A less intensive option for patients to receive treatment 3-5 five days a week in 3-hour sessions. This option works best with clients who can live everyday life as close to pre-treatment as necessary when caring for their families and jobs.
Aftercare/Traditional outpatient: Aftercare and continuous support are critical to maintaining sobriety and essential to our mental health treatment plans. Support can include ongoing family and individual therapy or counseling, continued participation in support groups or 12-step programs, and regular check-ins with a therapist.
Sober living homes: Our sober living homes offer structured housing that provides additional accountability and an evidence-based approach. Sober living is often used in conjunction with PHP and IOP.
Causes of Anxiety Disorders
The most common anxiety disorders are generalized anxiety disorder (GAD), panic disorder, social anxiety disorder, phobia disorder, and separation anxiety disorder. They each come with their own set of symptoms.
GAD symptoms:
Restless

Fatigue

Difficulty concentrating

Irritability

Headaches, muscle aches, stomachaches, or other unexplained pains

Feelings of worry

Sleep problems
Panic Disorder symptoms:
Pounding or racing heart

Sweating

Trembling or tingling

Chest pain

Feelings of impending doom

Feelings of being out of control
Social Anxiety Disorder symptoms:
Blushing, sweating, or trembling

Pounding or racing heart

Stomach pains and aches

Rigid body posture

Speaking in a soft tone

Difficulty making eye contact

Uncomfortable in social settings

Feelings of self-consciousness or judgment
Phobia Disorder symptoms:
Irrational or excessive worry

Avoiding rejecting

Intense anxiety upon encountering an unknown situation

Avoidance of social settings
Separation Anxiety Disorder symptoms:
Fearing the worst will happen to loved ones

Fear being away from people with established close relationships

Bad dreams about being separated from loved ones 
Our Approach to Anxiety Treatment
Our treatment programs cater to each person's unique needs and goals. This individualized approach empowers those receiving treatment because they play a role in determining the best treatment plan. Our compassionate staff is committed to providing our clients with the best care. Our core values, compassion, dedication, and respect, mean we run our programs with the highest standards of integrity and fairness. 
Our treatment facility outside Atlanta is independently owned, so you can count on us to carry out our actions using the most innovative and sophisticated approaches available.
Our anxiety treatment programs can include the following:
Detoxification

Residential

Intensive Outpatient Rehabilitation

Partial Hospitalization 

Sober Living
Our Georgia rehab center's medical detox program sets the stage for long-term recovery. As a result, successful detoxification improves the chances of maintaining sobriety and leading a productive life without the hold of anxiety. 
When an anxiety disorder has intensified because of substance use, our team will recommend an addiction treatment program that best fits your individual needs, including the client, therapists, and family who participate in long-term recovery during the aftercare and beyond and could begin with detox.
Dedicated Addiction Specialists and Therapists
When you work with our team at Southeast Detox, you will feel a part of a supportive community. Our treatment team is well-respected in the industry, and we are experts in mental health and drug addiction. We utilize our medical backgrounds and passion for healing and the recovery of others to set our clients up for long-term success.
Southeast Detox Admissions Process
Our team will guide you through each step of the admissions process. Our clients start by participating in a complimentary and confidential call where we will ask pre-admission assessment questions to establish a unique treatment plan.
After that, together, we verify your insurance and out-of-pocket payment options. Your admissions coordinator will be in close communication until you arrive at Southeast Detox to answer any questions you might have.
From there, we tailor your treatment plan to ensure your success. Your inpatient team works closely with you to design this based on your circumstances. Our plans can include medically supervised detox, followed by inpatient care utilizing cutting-edge therapies and ongoing support through outpatient treatments and aftercare. 
We aim to make getting help easy and uncomplicated. Our warm atmosphere and state-of-the-art treatment services make getting better an empowering experience. We're here 24/7 to answer any questions you have about our addiction treatment center.
Insurance and Payment Options
We make drug rehab affordable and straightforward. Our admissions team will navigate your health insurance coverage and find payment options. Some in-network treatment providers we accept are Tricare, Anthem BCBS, Alliant Health Plans, Friday Health Plans, and Optum VA. We also accept most other private insurance policies.
If you don't have insurance, there are other ways to pay, which include client-specific payment plans. We want you to know that we aim to find the plan that suits you at a cost you can afford.
Ultimately, Southeast Detox strives to make its addiction treatment options accessible and affordable for all who seek help.
We specialize in assisting individuals who are living with a mental illness. Southeast Detox offers an array of therapies that help clients develop new ways to cope with mental illness and any associated substance abuse.
By offering a supportive environment, monitoring medication levels, and providing detoxification services, we make it easier for clients to focus on their recovery and regain control over their lives.
If you or someone you know needs support combatting anxiety and substance abuse addiction, we encourage you to visit us at 4300 Martha Berry Hwy, Rome, GA 30165, by phone at (706) 873-9955, or email us at info@southeastdetoxga.com.
Your Recovery Starts Here
Our admissions team is ready 24/7 to guide you through the process, from admission to coordinating travel, treatment programs, and more.